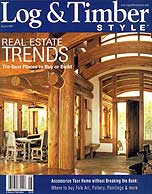 Log & Timber Style

"David Finholm designed the home with mountain requirements in mind. 'Our goal was to control and take advantage of the sun, yet not allowit to overheat the home,' explains David…'and the decks are protected from the wind by the architecture, this is a very windy site.'"
Published in the August 2003 Issue of Log & Timber Style for a custom residence built in Guffey, Colorado. The 300 acre estate is set in the rolling hills with the Collegiate Mountain Range of 14,000 foot peaks off in the western view. The unique town of Guffey boasts a 40 person population.
We traveled from Aspen once a month to the site for construction meetings via a rented 4 person private aircraft and then drove from the landing strip 50 miles to the homesite.
The home is approximately 8000 square feet and includes an oversized open floor plan with dining, living, family and kitchen spaces, 2 master suites, 3 guest suites, a media room, a pool room, and 5 1/2 baths and as much glass as possible was used to take advantage of the uninterrupted views.